Writing cover letters is a stressful process. There are many revisions. It's easy to get the flow wrong. And even small mistakes can disqualify you. If English isn't your first language mastering the persuasive tone is even harder.
It's understandable that most people hate writing cover letters. But there's a very good reason to write them: they are a persuasive tool that when done correctly can help you stand out to employers.
There's a common thinking that employers don't read cover letters. Some don't.  But if a company asks for a cover letter in their application process and you don't submit one, you won't make it to an interview. Some companies definitely read cover letters.
For example, one of my favorite websites, CB Insights, a venture capital database, publishes a weekly newsletter for it's followers. Their newsletter is unique in tone and voice. Recently, a woman applied to a job at CB insights using their newsletter as a template for her cover letter. And they read her cover letter: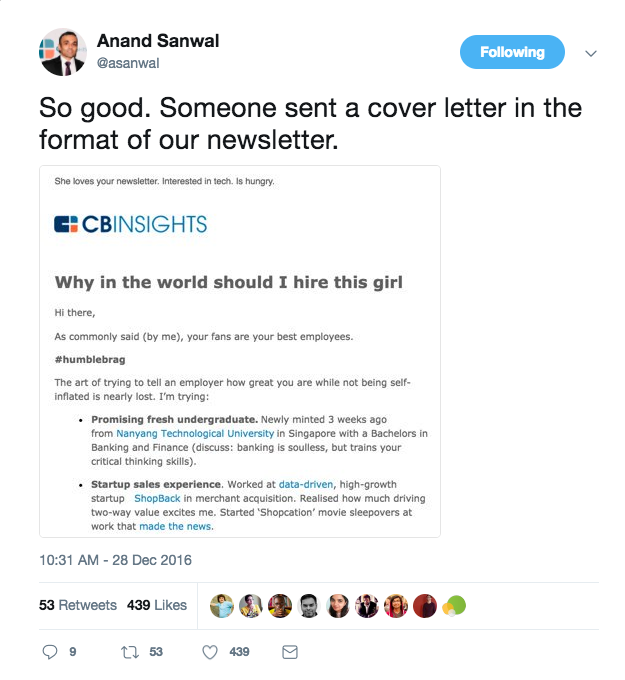 Her cover letter was so good the CEO of the company tweeted about it.
To stand out to employers you must write cover letters differently than the rest. You must think beyond the boring template that your school provides.
To stand out, first adapt your plain template to match the company you are applying for. Research the company's website, social media, and newsletter to learn the language and vocabulary that the company uses. Then use that language and style in your cover letter. For example, if you were applying to Buzzfeed, you might want to use some GIFs.
Someone did this. They knew Buzzfeed's style. And it got them the job.
Next, show some personality.
That step is the hardest. What is personality? It's the part of you that makes you different from other job seekers. You have a unique story. Since you're an international student you bring new perspectives to any position. Use that in your favor. Talk about:
what motivates you
what you want to learn
what you're curious about
what you've done in the past that is impressive to you
Instead of saying, I am a student at (university) and applying to the (name of position), try starting with something totally different. Imagine you're a recruiter and a cover letter started like with any of these sentences:
"I've been building interactive applications since I was 10."
"My friends love it when I draw on their class notes. I think I was destined to be a graphic designer."
"Every time I read your newsletter I think you're speaking directly to me."
When you write your cover letter, ask yourself: What would impress you to read? If you had to read 25 cover letters, what would get your attention? If you were reading a story about your professional life, what would get your attention?
Lastly, keep it short. Like, really short. No more than three paragraphs. Each paragraph should be no more than 3-4 sentences.
That's only 12 sentences to creatively capture the hiring managers attention.
To get you thinking creatively, here are 6 more examples of creative cover letters. And if you're still not inspired, here are 31 ways to start a creative cover letter. Use the language in these examples to shape your cover letters.
Don't forget to get your cover letter proofed by another person, even if English is your native language.
Remember: Your cover letter and resume are only one part of your job search. See the other steps here.