Whether you are searching for entry level OPT jobs or companies that sponsor H1B for experienced hires, you need to start with a target list. A target list is a list of companies where you want to work. It's one of the most important tools in the international student job search.
Your job or internship search always begins with discovery. This is the phase where you learn about as many companies as you can. Since you are new to the US job search there are many companies you haven't heard of.  Most students know five to seven companies that are familiar brands (Google, Facebook, Amazon, for example). But you need to learn about many more. Successful job seekers have 20-30 companies in mind that interest them.
Starting your search with 20-30 companies that interest you is important because international student jobs aren't common. You already know how difficult it is to find companies hire international students. Jobs for international students are also competitive. So having a large list of companies that interest you helps you stay focused when you find out a company doesn't sponsor H1B.
Why you need a target list
Easy answer: To keep you organized. Throughout your search you're collecting a lot of information. A target list includes information about:
Companies that interest you
Notes on if the company sponsors international students
Contact names
Contact emails
Application deadlines
Dates you applied to a job
Dates you sent a follow up email
Your target list is the foundation for the job search. It keeps your organized. It helps you keep track of companies, people, and deadlines.
Most importantly though it helps you keep track of companies that interest you. Employers want candidates who are well informed. You need to study companies like you study for exams. The target list helps you do this. Company discovery is probably the most interesting part of your search. There are so many fascinating companies to explore.
Find Companies on Job Search Platforms
To build your company list, use sites like LinkedIn.com and Indeed.com to search for interesting companies based on your major or interests. For example, if you are a student studying finance, simply put "finance intern" or "finance student" into the job search engine to learn what companies are hiring.
Use Big Lists
To find companies that interest you start with lists that are already created. Popular websites like Fortune and Business Insider put out lists of the top places to work:
Explore Company Cultures  on The Muse
I love The Muse because their company discovery pages are filled with videos from actual employees. You can learn a lot about company cultures and roles from their multi-media company pages. The Muse features diverse companies, from large fortune 500 to up-and-coming companies. They are a great resources for finding companies that interset you.
Search Databases to Find Emerging Companies
My favorite for international students in finance or technology, is CB Insights Blog. Get data-backed information on the cutting edge of technology across industries. CB insights provides summaries of new companies and acquisitions in the technology space. They produce lists like Bitcoin and Blockchain Startups Around the World; The State of Synthetic Biology: Investors Placing Bets in Food, Biofuel, Healthcare and More.
If you're interested in startups, Angellist and Crunchbase are very good.
Review Your School's Employment Outcomes List
Many schools produce an employment outcomes report. It's usually found on your career services website. Ask your career services for a list if you can't find it. This will list all the companies that have hired students at your school. Some schools even share lists of employers that hire international students or entry level OPT jobs (see Cornell's Career Services list)

Explore these examples
MIT Undergraduate Graduating Student Survey Report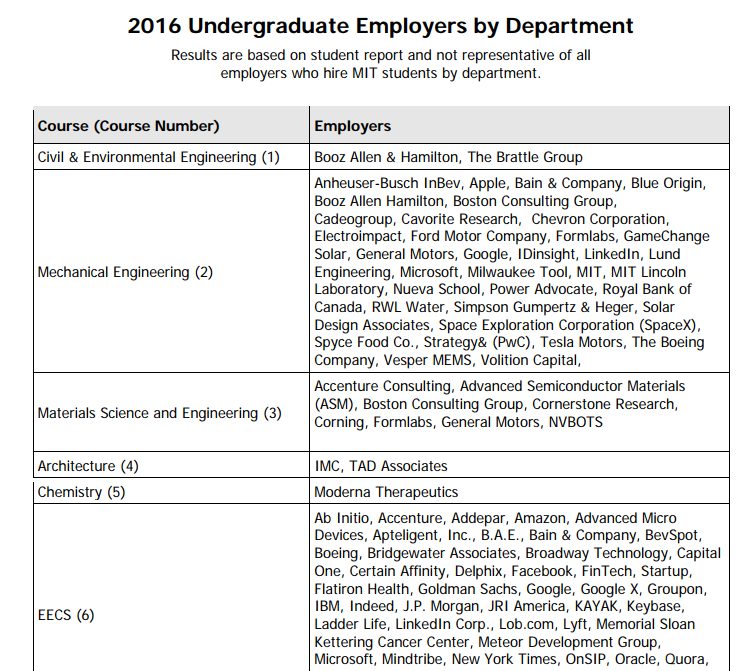 University of Michigan 2016 Employment Report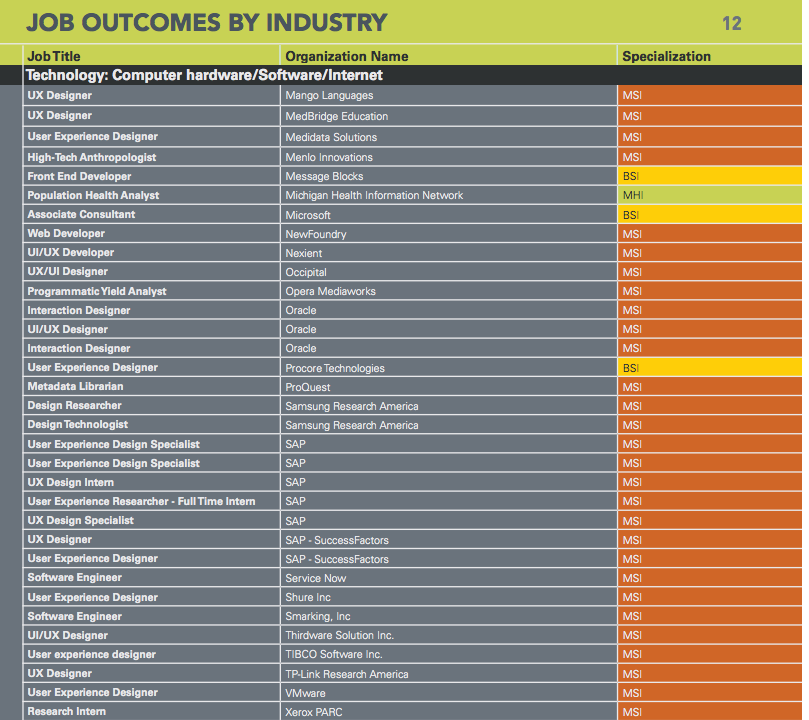 Need more help in your internship or job search? Take a look at the upcoming webinars for international students.