Before the job search begins international students need to learn about H-1B, the work authorization that allows you to work in the US after your studies. Learning about H-1B for international students takes time. In addition to H-1B visas, you should also learn about CPT, OPT and OPT extension. For students from countries like Australia, Canada, Singapore, or Chile, there may be additional work authorization options (see infographic below). Many employers do not know all the details about work authorization. It is important that you learn as much about work authorization before deciding if you want to work in the US after graduation.
Always get the facts on H-1B for international students
The rules for H-1B are under review in the U.S. The H-1B rules may change. It is getting harder for international students to get hired in the U.S. This creates a lot of speculation and misinformation. At this time it is very important to stay informed about H-1B and avoid misinformation. Get information about H-1B directly from your international student services office. You can also contact immigration attorneys (many offer free consultations) and read their websites for updates. They are the best source of information. There's a good overview of how the H-1B process works from an immigration attorney on Quora. Read it to understand how H-1B visas are distributed.
In additional to learning about H-1B for international students, learn about work authorization options for F1 visa students. Many schools offer workshops to teach you the rules for CPT (for internships), OPT, and OPT extension (for STEM) majors. Many post the information on the website. For example, the University of Washington has a clear overview of work authorization options for F1 visa students. The more you know about work visas in the US, the more success you will have finding H-1B visa jobs.
Employers are nervous about sponsoring H-1B for international students
Employers value certainty in the hiring process. When hiring an international candidate on H-1B, employers don't have a lot of certainty. There's a possibility you won't be selected in the lottery. There's also a possibility that the H1-B rules will change. This creates uncertainty in the hiring process making some employers less likely to offer H1-B sponsorship, especially for entry-level positions. This also makes it harder to find companies hiring international students. Hired.com noted this trend in their report, Global Tech Hiring:
Our research revealed a 60% decrease in requests from US-based companies to foreign workers from Q2 to Q4 2016, which was likely the result of uncertainty around immigration policies generated by the election. This uncertainty abated to some extent post-election, but in Q2 2017, US interest in foreign workers was still down 37% year over year.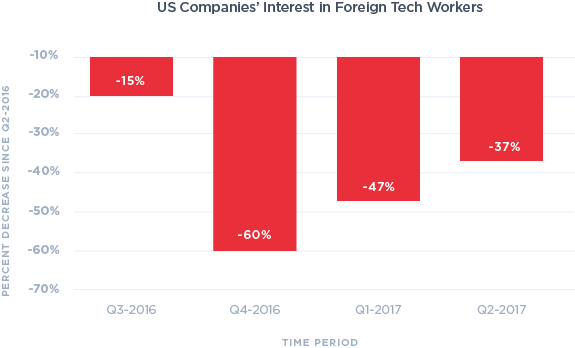 After H-1B

As an international student you're focused on finding H-1B visa jobs. However, its easy to overlook what happens after you get hired on H-1B. I encourage you to learn as much as possible about what life is like after you get the H-1B, including the Greencard (GC) process. Get perspective from international students who have gone through the process. Here are a few Quora threads to read:
Is H-1B/ GC really worth the effort? Is life after GC any better than without it?
What does Canadian Permanent Residence offer that H-1B does not?
How long after getting my H-1B should I wait before asking my employer to file for a green card?
When in doubt about work authorization consult your international student services office. If you want to start your own business, consult with immigration attorneys in your city or town.
Finally, consider another country. Learn how to get a job in Canada or build an international job search strategy. 
Beware of bad employers
Some employers take advantage of international students. They make promises about the H-1B for international students or provide false information about salaries. Some companies promise students they can get the H-1B; however, the selection process is lottery-based, so no company can guarantee you an H-1B. Some companies attempt to defraud newly sponsored international students by offering them less money because they have to pay for H-1B sponsorship. This is illegal. If this happens, do not continue the discussion with the employer, no matter how much you want to work in the U.S. If they lie to you in the interview, they will not be honest when you are an employee.
Remember this simple advice: If anything sounds too good to be true, it probably is.
H-1B and International Student Career Opportunities 
Finding international student jobs is like solving a puzzle. You're a puzzle piece. You just need to find your fit.  Not all companies or opportunities will be a fit.
H-1B visa limitations create barriers that many students find frustrating. Expect to get rejected. The rejection isn't personal; it's a business decision. Employers are nervous about hiring international students. Finding H-1B visa jobs or OPT job opportunities takes time. International student jobs are hidden among millions of other jobs. Expect your job search to take between 6 to 9 months. It takes a motivated, clever, and creative student to find them.
Don't let frustration stop your career goals. You are at the start of an international career that will be filled with opportunity. You may not get a job in the US. If that happens, remember there are good jobs in many countries. Don't forget to explore opportunities outside of the US.